News from Abide Osaka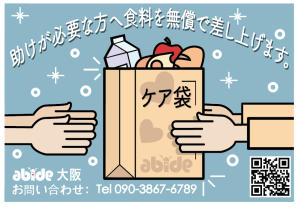 Do you need help? Free food!
Abide is a Protestant Christian church located in front of Nagai Park. In the midst of the Corona disaster, we thought, "Is there anything we can do to help those in need financially in this area where our church is located?" We started to provide free food and other daily necessities to those who need help in the Nagai area . As a small church, we are not able to provide a large amount of support, but from our limited financial resources, we prepare 12 bags of food every Thursday. Please call or email the following person to make a reservation, and if you receive an "approval" reply, please come and pick up your order. (Please note that there is a limit to the number of food items available, so there may be times when we run out. Please understand.
Pick up location: Abide Calvary Chapel Osaka
 4-2-3-3C Nagai Higashi, Sumiyoshi-ku, Osaka 558-0004, Japan 
 Between JR Nagai Station (5 minutes walk) and Subway Exit #2 (2 minutes walk)
 Third floor of the building with Lawson and Yoshinoya on the first floor.
Pick-up time and date: 
Every Thursday, 10:00a.m. – 4:30 p.m. Reservations required.
(If you are coming, please call or email the following person to make a reservation in advance.)
Eligibility: Single-parent families, those who are unemployed or suffering from reduced income due to Corona, etc.
Groceries: Ramen, retort food, canned food, spaghetti, rice,(2kg) Other daily necessities etc.
*The contents may vary slightly from week to week. It comes in a plastic bag. It is large enough to carry on a bicycle.
Inquiries: Tel: 090-3867-6789
E-mail: abide.osaka@gmail.com
Website: http://abide-osaka.org