Abide Osaka's Statement of Faith
Bible
We believe in the inerrancy of Scripture, that the Bible, Old and New Testaments are the inspired, infallible Word of God.
Communion
On Sundays we celebrate Communion in memory of our Lord Jesus' death on the cross and resurrection. Communion reminds us that Jesus loves us so much that He gave His life as a ransom for ours.
Each time we receive the bread and the fruit of the vine, we confess our faith in Jesus and in His finished work on the cross for the forgiveness of sins.
If you know Jesus as your Lord and Savior, please receive Communion with us. However, if you are not yet ready to trust in Jesus, then it is best to wait until you are ready to affirm your faith in Christ before participating.
In First Corinthians 11:23-25 Paul left us these words of institution for communion.
The Lord Jesus, on the night he was betrayed, took bread, and when he had given thanks, he broke it and said, "This is my body, which is for you; do this in remembrance of me." In the same way, after supper he took the cup, saying, "This cup is the new covenant in my blood; do this, whenever you drink it, in remembrance of me."

1 Corinthians 11:23-25
As we continue in worship, please turn to the Lord in prayer, confess any sins on your conscience, and give thanks to Jesus, then come and receive.
Doctrine
We believe in all the fundamental doctrines of orthodox, evangelical Christianity.
End Times & Second Coming
We await the pre-tribulation rapture of the church. We believe in the personal, visible and pre-millennial second coming of Jesus Christ to the earth. He will return with His saints and set up a kingdom of which there will be no end. This motivates us to holy living, heartfelt worship, committed service, diligent study of God's Word, regular fellowship, and participation in adult baptism by immersion and Holy Communion.
Fellowship
We believe that the only true basis of Christian fellowship is Christ's Agape love, which is greater than any differences we possess and without which we have no right to claim ourselves Christians.
God
We believe that God is the personal, transcendent, and sovereign Creator of all things.
Holy Spirit
We believe after Jesus ascended to Heaven, He poured out His Holy Spirit on the believers in Jerusalem, enabling them to fulfill His command to preach the Gospel to the entire world, an obligation shared by all believers today.
Jesus Christ
We believe that Jesus Christ is fully God and fully human, that He was born of a virgin, lived a sinless life, provided for the atonement of our sins by His substitutionary death on the Cross, was bodily raised from the dead, ascended to the right hand of the Father, and ever lives to make intercession for us.
Leadership & the Church
We believe that church government should be simplistic rather than a complex bureaucracy, and we depend on the Holy Spirit to lead, rather than on fleshly promotion.
Membership
We do not have formal church membership. However, everyone is freely welcome to "abide" with us as long as the Lord leads them.
The wind blows where it wishes, and you hear the sound of it, but cannot tell where it comes from and where it goes. So is everyone who is born of the Spirit.

John 3:8
Sin and Salvation
We believe that all people are, by nature, separated from God and are responsible for their own sin, but that salvation, redemption, and forgiveness are freely offered to all by the grace of our Lord Jesus Christ. When a person repents of sin and accepts Jesus Christ as personal Savior and Lord, trusting Him to save, that person is immediately born again and sealed by the Holy Spirit, all his/her sins are forgiven, and that person becomes a child of God, destined to spend eternity with the Lord.
Spiritual Gifts
We believe in the gifts of the Holy Spirit mentioned in the Scriptures, and that they are valid for today if they are exercised within the Scriptural guidelines. We as believers are to covet the best gifts, seeking to exercise them in love that the whole Body of Christ might be edified. We believe that love is more important than the most spectacular gifts, and without this love all exercise of spiritual gifts is worthless.
Teaching & Growth
At the heart of our ministry, and our lives, is the Word of God, which is taught verse-by-verse, chapter-by-chapter, and book by book through the Bible. We know the Word of God to be the single most effective tool for transforming the lives of people, and it is our primary emphasis in all we do.
Trinity
We believe that God is eternally existent in three distinct persons: Father, Son (Jesus Christ) and Holy Spirit.
Worship
We believe worship of God should be spiritual. Therefore, we remain flexible and yielded to the leading of the Holy Spirit to direct our worship. It should also be inspirational. Therefore, we give a great place to music in our worship. Third, we believe that worship should be intelligent. Our services are designed with great emphasis upon teaching the Word of God that He might instruct us. Last, we believe the worship of God should be fruitful. We look for His love in our lives as the supreme manifestation that we have truly been worshipping Him.
Calvary Chapel Distinctives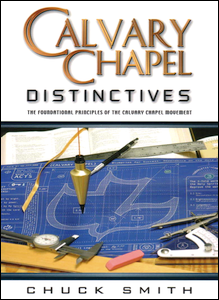 What makes Calvary Chapel distinctive? It's always good to have a grasp of the distinctive work that God has done in our fellowship. If Calvary Chapel is exactly like the church across the street it would be better to simply merge the two. But, if there are qualities that make us different, then we have a unique and special place in the plan of God. Certainly there are churches that share many of our beliefs and practices. But God has done a wonderful work of balance in the Calvary Chapel movement that does make us different. Some churches believe in the gifts and ministry of the Holy Spirit, but don't have a strong emphasis on Biblical teaching. Others place strong emphasis on teaching the Word of God, but don't believe the gifts of the Spirit are available and valid today. In Calvary Chapel we value the teaching of the Word, and possess an open heart to the work of the Holy Spirit. This balance makes Calvary Chapel a distinct and uniquely blessed movement of God. And so, it's important to understand the Biblical principles that explain why God has allowed us to exist and grow.
A Venture of Faith
A Venture in Faith: The History and Philosophy of the Calvary Chapel Movement