Thank you so much for co-laboring together for Christ with us!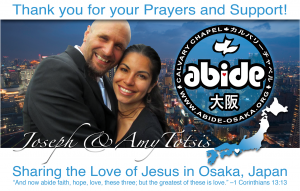 "To [God] who is able to do immeasurably more than all we ask or imagine, according to His power that is at work within us, to him be glory in the church and in Christ Jesus."

Ephesians 3:20-21
Ways to donate:
You can send your offering / gift to our Japan Post Bank account.
Account #: 00930-8-303109
Account Name: Abide-CC Osaka
If the transaction is to be made through other banks, you will also need the following info.
Branch name & number: 〇九九店 (099)
Account Category: 当座 (Toza)
Account #: 0303109
In the US, for tax deductible donations, send them to Calvary Chapel Montebello.
If sending a donation this way, please send CC Montebello's Administrative Pastor, Loren Lew, an email (lorenzo@ccmtb.com) so he will be aware of your designated donation.
Also, if you wouldn't mind, please let us know so we can confirm the deposit once it has been transferred.
Check:
Make your check out to: "Calvary Chapel Montebello"
In the memo please write: "For Abide Osaka, Japan
Mail your check to: Calvary Chapel Montebello, 931 S. Maple Ave., Montebello, CA 90640
Online:
Bank name: Alta Pacific Bank
Routing number: 121144311
Account number: 202001156 (Account type: Checking)
Recipient: Calvary Chapel Montebello
Email: office@ccmtb.com
Street address: 931 S Maple Ave., Montebello, CA 90640
Notes: Please send to CC OSAKA Joseph and Amy
Intermediary Bank: Deutsche Bank Trust Company Americas NY
Intermediary Bank BIC (SWIFT Code): BKTRUS33
Beneficary Bank: Japan Post Bank
Branch: Head Office
Beneficiary Bank Address: 3-2 Kasumigaseki 1-chome, Chiyoda-Ku, Tokyo 100-8798, Japan
Beneficiary Bank BIC (SWIFT Code): JPPSJPJ1
Beneficiary Bank CHIPS (UID): 427593
Payee Account Number: 00930-8-303109
Name of Payee Account Holder: Abide-CC Osaka
Payee Address: 2−2−28−602 Nagai Higashi, Sumiyoshi-Ku, Osaka, Japan
Payee Telephone Number: 080-4239-9114
Note #1: The information for the Intermediary Bank must be included. If no specific space if provided for this information, please write it within an open space on the form.
Note #2: The Payee Telephone Number is the cell phone number for Amy Totsis, the treasurer of Abide Calvary Chapel Osaka. The number is listed as it would be dialed within Japan. From the USA, the number is 81-80-4239-9114.